Fish Facts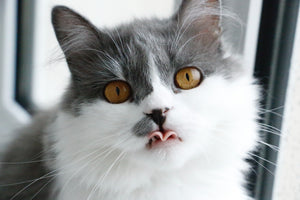 Many pet parents opt to add whole oily fish to their pets' bowls. This is often done to boost the Omega-3 fatty acid and Vitamin D nutritional elements.  But how do you know which fish to add, how much and how often?
When selecting a fish source to be added to your pet's diet, there are a few things to consider:
How large is the fish? (Size does matter, when it comes to fish smaller is better)
How high up on the food chain is the fish? (Ideally choose fish that are lower on the food chain)
How many will you need to feed to achieve your pet's dietary goal? (You want to avoid having to feed excessive amounts each day)
There are a few little, oily fishies that will check all the boxes and be a great addition to your pet's diet:
All of the above fish will bring a healthy dose of omega-3 fatty acids in the form of EPA and DHA (great for skin and coat) along with Vitamin D (essential for proper calcium absorption). They are also typically fairly easy to source and purchase.  Of course, there is variation between each fish species, for example, some are higher in vitamin D than others.  But mixing and matching to your pet's preference is always a great idea and keeps things interesting.
As a general guide, we suggest adding 5 grams of oily fish for every 4 ounces of raw food fed. We've drafted up the below chart to help compare the benefits of the most common fish toppers.
*Keep in mind that when exploring nutritional databases geared towards human consumption, some information will be missing as some vitamins are found in parts of the fish humans do not consume but pets do. Additionally, the USDA will estimate nutrients for one animal based on other similar ones *
Source: https://fdc.nal.usda.gov/fdc-app.html#/food-details/175119/nutrients 
| | | | | |
| --- | --- | --- | --- | --- |
| 100g Serving | Mackerel | Sardine | Smelt | Salmon |
| Calories (kcal) | 205 | 185 | 97 | 127 |
| Protein (g) | 18.5 | 20.9 | 17.63 | 20.5 |
| Fat (g) | 13.9 | 10.5 | 2.42 | 4.4 |
| Vitamin D (ug) | 16.1 | 4.8 | 0.8 | 10.9 |
| DHA (g) Docosahexaenoic Acid | 1.401 | 0.864 | 0.418 | 0.333 |
| DPA (g) Docosapentaenoic Acid | 0.212 | 0.061 | 0.018 | 0.047 |
| EPA (g) Eicosapentaenoic Acid | 0.898 | 0.532 | 0.275 | 0.182 |
*Source: https://fdc.nal.usda.gov/index.html
A lot of information is often shared about DHA and EPA yet little is mentioned about DPA. DPA is part of the same family as DHA and exhibits similar cardo-metabolic protection as DHA! 
What about fish allergies?
Some pets cannot have fish added to their diets. And perhaps more commonly, some people may have allergies to fish and cannot risk having it in their kitchens.  Many people will reach for a plant-based oil such as Hemp.  While Hemp seed oil is a rich source of Omega-3 fatty acids, the fatty acids are not DHA or EPA like our pets need.
Hemp seed oil primarily contains Linolenic Acid (LNA) and Linoleic acid (LA) in a 3:1 ratio, which then has to be to be converted by the body into the fatty acids it needs. LNA is converted to EPA and DHA while LA is converted to GLA (Gamma Linolenic Acid).
Sadly, this conversion process is not very efficient in our canine and feline companions. This leads to a higher amount of plant-based sources of omega-3 that needs to be fed daily to help offset the inefficient conversion
If you do choose to source plant-based oils for your omega-3 requirements we cannot stress enough the importance of a high-quality product.  We often recommend Heightened Hemp by Adored Beast.
Have questions about Fish or other whole food toppers?  Feel free to reach out to our amazing team contact us at Iron Will Raw.