Boost Your Bowl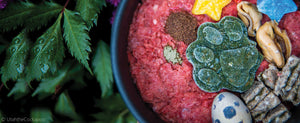 Boost Your Bowl
It's the best food for you pet they said……(True)
Your pet will love it they said….(Also true)
Just use 3-4 different proteins a month and throw in some fish oil and you're all set they said….(ummmm... partially  true)
Check out social media they said---it's a great way to connect with other raw feeders and a fantastic source of ideas and support (VERY True!)…..

Whoa…bone broth?? What's that and where do I get some?? I think I need that too!!
Sardines?? Oysters??? And what in the world are mussels for??!! I for SURE need to add that…I think…..
Sound familiar?? Trust us, you're not alone and it happens to ALL raw feeders at some point in their journey to find the best nutrition for their dog/cat. Don't worry though----We're always here to help!!

It's important to remember that all pets are individuals. The above recommendations may not address specific health concerns or conditions.  For more information about how to boost your pet's bowl please contact us at Iron Will Raw.