HOW TO KEEP YOUR DOG'S SKIN AND COAT HEALTHY AND SHINING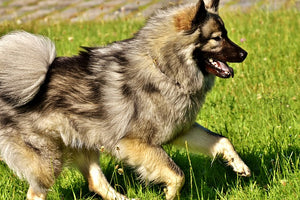 One of the benefits of raw that we espouse is "a shiny soft coat".  Since the skin is the largest organ, a dog's coat and skin are often the most apparent reflection of overall health. What we put into their bodies is often reflected on the outside. So, since a raw diet is the best diet for dogs, they end up with healthier skin and fur.
In this blog, we'll look at the science behind this benefit and also offer a couple of other tips of what you can do for a dog's outer layer, especially for dogs with ongoing diseases or conditions which may need additional support than just their diet.  
COMMON COAT ISSUES
These are the problems to look for that indicate an issue with a dog's coat and skin health. They are often indicative of nutritional deficiencies, allergens or poor internal organ function. If you are noticing these, consider switching to a raw diet (more on that below.)
Regular hot spots

Thin fur, fur loss or fur breakage

Inflamed skin (often red)

Flaky skin or dandruff

Fur colour has become dulled
HOW RAW DOG FOOD BENEFITS A DOG'S COAT
The reason why there is less poop to scoop for dogs on a raw diet is because they have less in their diet that they don't need, thus less "waste" is produced. The reason why raw is right for their coat is similar. Feeding raw meat and a raw diet to dogs provides nutrients which are more bio-available naturally for dogs. Basically, it's easier for their digestive system to break down the food and absorb the necessary nutrients. The internal organs thus receive these necessary vitamins and minerals quickly and with no internal stress. These nutrients often have to be added synthetically in commercial kibble as the cooking process to create kibble destroys them initially. They include natural vitamins, minerals, enzymes and phytonutrients.
Enzyme deficiencies are often a cause for unhealthy skin and fur. Active enzymes are naturally present in raw food and helps a dog digest food and absorb nutrients. Without these enzymes, animals have trouble digesting starches, fat and protein. Without these being properly digested, cellular activity, such as tissue development and regeneration, is delayed. This results in dandruff, dry skin, itchy skin and thin or nonexistent fur growth.
STILL EXPERIENCING COAT ISSUES?
If your dog is on a raw diet but you are still noticing persistent skin or fur problems, they may need additional support. Some breeds are more susceptible to issues, while some dogs have genetic disorders that feeding raw meat alone might not fix.
Your dog's digestive system may need a further boost than active enzymes. Supplementing their raw diet with high fiber vegetables will help, as they include prebiotics and probiotics, enzymes and fibre. Our "Original" formulas already come with canine superfoods like spinach, kale, parsley and kelp. These are great additions to raw meat and will help combat dog fur issues. You may also want to support GI health with a natural probiotic added to their meals on occasion.
Finally, if a dog's diet is natural, their hygiene routine should be too. If you're shampooing your dog, do so with chemical-free blends that can help nourish a dog's skin. This is particularly helpful if you're noticing a dog with itchy or dry skin. Look for products with aloe vera, coconut and colloidal oatmeal. Be sure not to wash your dog too frequently as even the most natural and gentle shampoo can remove the natural oils from a dog's coat and cause dryness and irritation. Also, it is important that your dog's fur and skin are dried thoroughly afterwards washing, as wet skin and uncombed fur can aid in the development of bacteria and hotspots.
There are a few different causes of poor coat health in dogs, but if you're feeding the best diet for dogs, you'll be going a long way to combatting these issues. If you're still experiencing issues with a pet's fur or skin, contact us today. We have helped many owners through these issues and would love to help you get your best friend feeling great again!