ARE YOUR PETS READY FOR WINTER?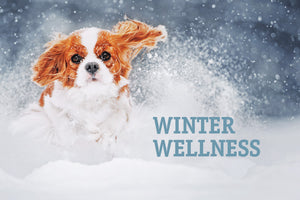 With the winter months quickly approaching, now is the time to prepare and make dietary changes that your pet may require.

Pet owners' most common concerns during the winter months are cracked paws, split nails, dry skin and a reluctance to go outside when the temperature creeps below zero. Iron Will Raw has whole foods available to help with these concerns and enrichment ideas to help with the other.
Eggs and Whole Oily Fish are some of the best items to add to your pets' diet if you don't already. If they are a diet staple, try slightly increasing the amount per week.

Eggs contain Vitamin B7, also referred to as Biotin, which plays an important role in helping enzymes break down fat, carbohydrates and protein. Vitamin B7 can help maintain a healthy skin and coat along with helping to repair brittle nails (if there are no underlying conditions causing these occurrences).

Whole Oily Fish contain valuable Omega-3 Fatty Acids that are fantastic for your pets' skin, coat and any inflammation in the body. The cold months can be difficult for pets who have existing joint issues or arthritis. Boosting your pets' Omega-3 intake can help reduce inflammation and subsequent pain associated with these conditions.
To add Vitamin B7 and Omega-3 Fatty Acids, refer to the suggested feeding chart above. If you already feed Iron Will Quail Eggs and/or Iron Will Raw Sardines and feel your pet occasionally has the concerns mentioned, add 1 - 2 additional servings per week to give those nutrients an extra boost. Talk to your Veterinarian about adding or increasing the amount of Omega-3's should your pet have joint concerns or existing arthritis.
And last but not least, pets who would rather spend their winter days inside by a roaring fire instead of out in the snow – indoor enrichment ideas are perfect for these pets! Using items like Messy Mutts (or Cats) Therapeutic Licking Mats and Interactive Slow Feeder Bowls are a great way to prolong mealtime and provide additional relaxation time.
Tag us @ironwillraw and share how you boost your pets' bowl and keep them entertained in the winter months.