What's In Your Pet's Bowl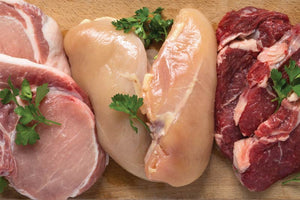 Have you ever wondered what kind of safety and quality standards Canadian pet food manufacturers are required to maintain? Although it may be hard to believe, the answer is 'none'! At Iron Will Raw, we believe accountability, traceability, biologically-appropriate nutritious ingredients and impeccable food safety standards are imperative when producing safe and nutritious raw pet food. We voluntarily maintain our HACCP (Hazard Analysis Critical Control Points) Certification and are proud to be the first and only raw pet food manufacturer in Eastern Canada and third in the country to do so! We are committed to providing you and your pet with safe, quality-assured raw pet food and have strict procedures in place to maintain these standards.
A Cut Above The Rest
Producing a high-quality and nutritious raw pet food starts with selecting only the best ingredients. Our proteins are responsibly sourced and raised in accordance with CFIA (Canadian Food Inspection Agency) standards. Our suppliers must also uphold strict requirements when it comes to food safety, traceability, microbiological testing and ethical processing.
All the proteins that go into our recipes come from federally or provincially inspected facilities. Federal facilities have different classifications of meats that they can provide: human consumption (sellable), pet food (sellable) and rendering (waste, but can be sold to pet food manufactures). There are some major differences when it comes to these classifications! Human consumption meats have a documented guarantee that they have been handled safely and correctly, frozen in time, have applicable microbiological testing and have 100% accountability and traceability programs in place. These critical factors can not be guaranteed with pet food-grade meats - even if they come from "human grade" facilities.
Which Proteins Make The Cut?
With the exception of green tripe and spleen, all the meats we use in our Formulas are classified as 'fit for human consumption'. Instead of using just carcasses in our raw menu items, we use the highest-quality cuts of animal and muscle meat. When possible, we also use whole (cleaned) animals in our menu items. Our menu items go through a triple grind process which eliminates large chunks of bone and ligament, making it suitable for dogs and cats of all ages and sizes to consume.
You can see the difference premium ingredients make right away. Unlike some other raw food brands, our Formulas are a deep, rich colour. This reflects the additional muscle meat and high-quality proteins found in these menu items. If raw pet food appears light in colour when ground, it can indicate high levels of bone and fat.
The Iron Will Raw Standard
Did you know our food safety standards are equal to (or exceed) programs found in facilities which process meat intended for human consumption? Since there are no regulations in place for pet food manufacturers in Canada, we have had to set, trend, measure, verify and validate requirements for tolerable standards based on comparable meat processing guidelines. In many cases, such as our ATP Swabbing thresholds, we set our standards higher than what's necessary in a human-grade meat processing facility. We've set these high standards because we believe pet food manufacturers should be accountable for the products they produce. We've shown that not only can these goals be achieved; they should be expected.
Our commitment to food safety can be seen in our testing, mock recall drills, and 3rd party audits. We constantly test and monitor our facility, menu items, ingredients and processes. If it's possible to test – it's probably on our list. Water quality? Tested annually. Shelf life validations? You bet we test that. Air quality? Yup, test that too. Temperature logging? We sure do! We even retain a sample of every batch of Iron Will Raw that's produced for the duration of its shelf life incase future testing is ever required.
We also perform monthly internal audits and have a 3rd party audit our facility annually and processes quarterly, in order to maintain our HACCP Certification. 
Iron Will Raw is also one of the few raw pet food manufacturers to implement an allergen control program for humans. This program prevents cross contamination of any possible human food allergens, ensuring our raw food is safe for furry friends and the pet parents that handle it.
When you feed your pet Iron Will Raw, you know exactly what's in your pets' bowl: safe, species suitable ingredients and human-grade proteins! If you have any questions about our commitment to producing the safest raw pet food possible or our facility, check out our FAQs or send us a message on Facebook or Instagram. If you're interested in touring our facility, we're happy to show you around! Please contact us by clicking here to book a tour.