IS A RAW FOOD DIET RIGHT FOR MY DOGS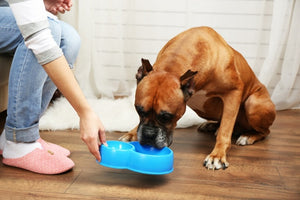 When we are out at trade shows or pet food stores, we often hear from dog owners that say they like the  idea of feeding raw and appreciate the science behind it; however they do not believe it is right for their dog.
Whether it is due to packaging or just the connotations of the word "raw", people sometimes assume that this type of diet is only for large dogs, athletic dogs or working dogs. This couldn't be further from the truth.The truth: all dogs benefit from a natural, raw diet. Because a raw diet is the natural diet of dogs, it benefits French Poodles, German Shepherds, Czechoslovakian Wolfdogs and Scottish Terriers in the exact same way!
A raw diet for small dogs does not differ greatly from a raw diet for larger dogs. Small dogs may look cute, but they're still carnivores benefit from eating natural, simple food that is high in protein and low in carbohydrates.
Of course the amount of raw dog food your dog needs on a daily basis will be dependent on their size, activity level and body type. If you're wondering how much raw food your best friend would need, our feeding calculator is a good place to start.
Feeding raw isn't a "special" diet. Yes, a raw diet helps dogs with allergies. But it also helps dogs without allergies. Even if your dog has not had major health issues, you will notice a marked improvement in overall well-being by transitioning them to raw.
The only difference in diet might be the type of raw food you feed your dog, but that will come down to the individual preferences and needs of your dog. We recommend, if possible, to regularly update the type of protein you're raw feeding your pet.
From lap dog to best in show, your dog will thank you for feeding her a raw diet.
Want to start seeing the benefits today? Find an Iron Will Raw retailer near you!