Debunking the Myth: Raw Pet Food Safety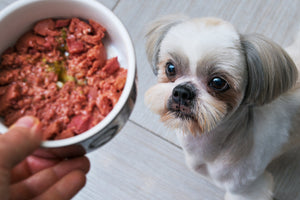 DEBUNKING THE MYTH: RAW PET FOOD SAFETY
In recent years, the popularity of raw pet food has surged, yet there are numerous myths and misconceptions. Here, we aim to dispel one of the most common myths associated with raw pet food - the unfounded fear that it leads to parasites or illnesses in pets and even poses risks to human family members. 
Quality Control Matters 
One of the key benefits of a raw pet food diet lies in the ability to closely monitor ingredient quality. When you feed your pet raw food, you gain a better grasp of its freshness through visual and sensory cues. This heightened awareness ensures that you provide your pet with high-quality ingredients. 
Safe Sourcing and Handling 
Choosing a reputable raw pet food manufacturer is pivotal. Opt for one that sources ingredients from government-inspected facilities and selects items graded for "human consumption." Such practices can ensure that the raw materials are devoid of harmful bacteria and pathogens. Additionally, stringent food handling procedures, proper storage, and meticulous transportation are imperative to uphold the safety and quality of the raw diet. 
Safe Food Handling at Home 
When serving raw meals to your pet, it is crucial to adhere to safe food handling practices, much like you would with raw meat products for yourself. Thaw the raw food in the refrigerator or cool water, and avoid repeatedly freezing the product. Ensure unused portions are stored in sealed containers in the fridge while maintaining proper temperature control. 
Biological Appropriateness 
A compelling reason to consider a raw diet for dogs and cats is its biological appropriateness. Pets possess digestive systems engineered to handle a higher bacterial load than humans. Their natural defenses, such as antimicrobial enzymes in their saliva and highly acidic stomachs, facilitate efficient processing of a raw food diet. 
Experience the Benefits of Iron Will Raw 
Our unwavering commitment to quality and safety sets us apart. Iron Will Raw takes immense pride in producing premium quality raw pet food in an internationally recognized HACCPCanada Certified facility.  This certification underscores our dedication to pet food quality and safety. 
Iron Will Raw provides pet owners with safe and nutritious products made to the highest standards. The Iron Will Raw Philosophy is to use nature as a foundation with enhanced science-based evidence to create raw food that best serves our pets. Iron Will Raw offers a range of nutritious raw pet food – Basic Single Proteins Meals and our Dinners which are formulated to meet AAFCO Standards; Canine Complete Dinners, Feline Complete Dinners, and Puppylicious Dinners.  

Explore Iron Will Raw's superior quality products here