HOW DO I HANDLE AND STORE RAW DOG FOOD?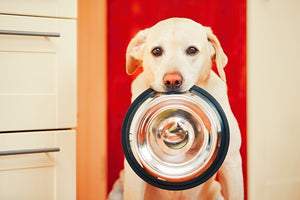 One of our favourite things about feeding our own dogs Iron Will Raw Dog food is the simplicity of it. Thaw, spoon, serve. It's that simple.
Many owners think that feeding raw dog food is a messy affair that requires time-consuming weighing, mixing and sanitation practices. The truth is that handling raw dog food is similar to handling raw human food: concerns can be mitigated with proper handling and storage. If you think about it, this makes sense, since the raw food you're serving your dog should be meeting the same standards as the raw food you purchase for the humans in your family.
STORING RAW DOG FOOD
Raw dog food should be stored the exact same way you would store ground beef or chicken breasts: in a freezer, securely packaged. Keeping raw food frozen will prevent bacteria from growing and ensure your dog's food remains safe to thaw, spoon and serve.
A key element is temperature control. Some bacteria can start to grow around 8 degrees celsius or 46.5 degrees fahrenheit. There are types of bacteria that can cause illness before the smell or look of the food is altered. Best practice is to discard food if your freezer has broken down or it has been left out at warm temperatures for an extended period of time. 
HANDLING RAW DOG FOOD
To serve raw dog food, remove it from the freezer and thaw until defrosted. This can be done by placing in the refrigerator or in your sink over night in cold water. When it is defrosted, simply use a spoon to place in your dog's dish and watch Rover enjoy!
SOME OTHER TIPS:
Use a stainless steel bowl, if possible. This is the easiest to clean and thus, the safest option

Keep raw food secure from other food.

If you have unused portions of defrosted raw meat, place these in your refrigerator. They'll stay safe and fresh for 2-3 days.

Wash food contact surfaces, utensils and hands with warm soapy water.
Feeding raw dog food isn't as complicated as it may seem. Following the above advice and using common sense will alleviate any problems that are sometimes associated with raw food, whether for humans or pets.
The benefits to feeding raw are worth the extra care in handling and storing that raw dog food requires. Trust us, your dog will love you for it!