Meat Sourcing (Part 2)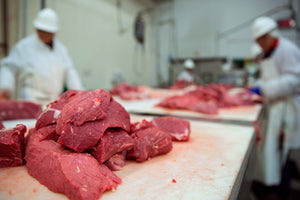 In the raw pet food community, you will notice that companies often convey that they use ingredients from Federally and/or Provincially inspected facilities. This can be such a great piece of information that gives you confidence in a company! But, did you know there are different forms of meat product that come from these facilities?

No? Well, let's investigate!

In Ontario Canada, commercial meat processing facilities often have multiple meat products available including meat intended for human consumption, animal food and pet food (which can also be used for research). It is important to note that these 3 types of meat products are not created equally. If a manufacturer claims that they use ingredients from Federally and/or Provincially inspected facilities, but don't list the actual ingredient, consider looking into this.
Meat for human consumption is a meat product that has been inspected and is deemed suitable for human consumption. Meaning that it's ready to eat. This meat would be found at your local grocers and is often used by high quality pet food companies.
Meat products for pet food (food for companion animals) has been inspected but will not be sent to grocery stores for human consumption. This can either be because the processing facility does not have additional space for further handling (kidney and liver require further processing) OR, the quality of the meat product does not meet certain specifications.
Meat product for animal food* is any part of a carcass that is deemed NOT suitable for human consumption. This meat is also NOT inspected by a meat inspector and is not a meat product that belongs in our pets food.

When inspected meat is sent from these facilities, there are many rules and procedures that need to be followed. A Certificate of Analysis (CofA) is mandatory for certain products (heart, cheek meat, trimmings, etc). These products MUST be stamped with a number which can be found on the packaging or even on the meat itself (every facility has their own number, given by CFIA or the provincial institution). If the animal has reached a certain age then the meat must be marked with a stamp on the documents and boxes. All of this information is of high importance for companies like Iron Will Raw who have AND maintain HACCPCanada Certification. This information plays a key role in our product traceability program as we are able to trace all products from raw materials to customer point of sale.

*Animal food is a food that is fed to any animal that is not used as a food animal and is also not a companion animal.
Click here to visit Part 3: Safe Handling